06 Apr

'Sacred Places' to be published September 2020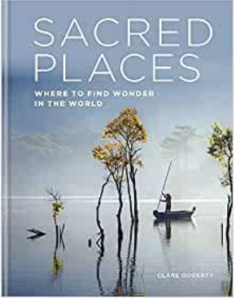 My next book, 'Sacred Places: where to find wonder in the world', has been dispatched to the printers and will be published by Aster in September 2020. As I write this, we are all cooped up at home with the prospect of travelling anywhere at all frustratingly out of reach.
This period of confinement will end however, and then we will be free once more to seek those places that have a special resonance and meaning. These are destinations that hold an inexplicable magic. Either stumbled upon or actively sought, they have the power to stir something within us: something profound and memorable that is beyond the reach of the everyday.
Now more than ever, the need to replenish and nourish ourselves is increasingly important. Transformational travel to a place that could shift something within us, or nurture our physical and spiritual selves, is an urge that cannot be ignored.
Hopefully by September, life will return to normal and plans can be made. The book will take armchair travellers and adventurers to all corners of the globe, from Callanish stone circle in the Outer Hebrides, to the monasteries of Ladakh, the Galgberget labyrinths in Sweden, Crater Lake in the USA, the Sacred Valley of Peru, and countless places in between. Gorgeously illustrated and, ahem, beautifully written, it will have to power to transport and inspire in equal measure. Plus it has plenty of useful information to get you there.
Pre-order a copy on Amazon.