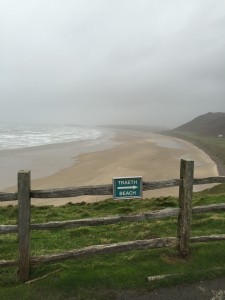 I have just finished writing the guidebook to the Gower Peninsula for the National Trust. As part of my research, I spent a few days stomping along beaches and rocking around in the Land-Rover of Richard, the NT's communication manager on the Gower, marvelling at the enormous beaches and the unspoilt loveliness of it all. All of which is reassuringly under the assiduous management of the National Trust.
My trip took place last November so the experience was thoroughly cold and wet. Winter beaches have their own special charm, of course: they are deserted for one. The picture, above is of Rhossili Bay, in summer teeming with surfers and pleasure seekers but in the winter totally empty. And this is Oxwich Bay…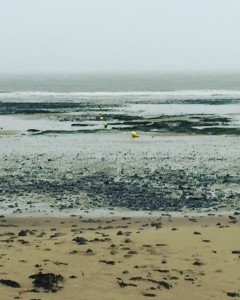 …which I also had to myself, apart from a few oystercatchers pecking along the strandline. The subtle colours of the coast in the colder months are very different to the in-your-face summer ones. It's all greys and soft browns and duck-egg blues. A landscape to make you wander along meditatively, considering things.
Or to stop and doodle with some pebbles: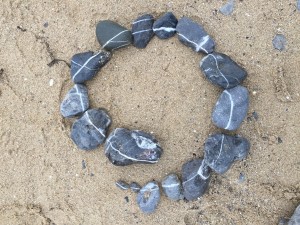 The Gower is the sort of coastline you want to visit every season to see how it changes, not just the colours and the weather but to see which birds have flown in and which wild flowers are in bloom. Now that spring has rolled around, I am planning to head back, maybe to stay in one of the National Trust's holiday cottages (this one is amazing). It's a hard place to stay away from.