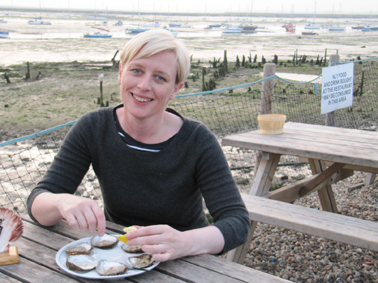 I am an award-winning* editor and writer with considerable experience in consumer magazine publishing. In the past I edited Coast magazine for six years, was interim editor of the National Trust Magazine, deputy editor of The Sunday Times insideout magazine, and editor of Grand Designs Magazine.
Currently I am homes and gardens editor of The Simple Things, commissioning and writing about homes, gardens as well as  general lifestyle topics. I combine this with writing about British travel, interiors and crafts for a variety of publications including The Guardian, Homes & Antiques,  Condé Nast Traveller, Country Homes and Interiors, and Enterprise Magazine, and writing blog posts for interiordesigners.net.
I have also written the National Trust's book of the Coast  (now in its second edition); the National Trust's guidebook to Brownsea Island; the NT's guidebook to the Gower Peninsula, and the NT's guidebook to Cornwall's Tin Coast . I also wrote 'Hidden Villages of Britain' (Batsford), which was published in September 2017. In April 2019, my latest title 'Beyond the Footpath: mindful walking for modern pilgrims', will be published by Piatkus. Details of all these books are on my Amazon author page.
I am represented by Jane Graham Maw  (jane@grahammawchristie.com) of literary agents Graham Maw Christie, who deals with my non-fiction books.
The rest of my time is spent pottering about in the garden and writing a novel about the search for a missing hairdresser in post-punk Manchester in the 1980s.
* Coast won the PPA Award for Specialist Consumer Magazine of the Year under my editorship in 2009, and I was shortlisted for four British Society of Magazine Editor awards. And shortlisted for the Visit England travel writer of the year award.
POTTED CV
April 2014 – present: homes and gardens editor, The Simple Things. Freelance writer and editor for a variety of publications. Author of books about the coast, the curious and the cosy.
March- December 2013: editor, www.averygoodplace.com
August-November 2013: acting deputy editor, Homes & Antiques
June-July 2013: editor, Prima's Easy Food for Summer Days
September 2012-March 2013: interim editor, National Trust Magazine
May 2007 -August 2012: editor, Coast
2006-2007: deputy editor, The Sunday Times insideout magazine
2003-2006: deputy editor, then editor Grand Designs Magazine
2000-2003: production and copy chief, In Style
1995-2000: chief sub-editor, Esquire
1993-1995: sub-editor, ES magazine
1998-1993: sub-editor, then chief sub-editor, Tatler  
1990-1993: editor, HarperCollins children's books